Why influencer marketing is part of your successful marketing strategy
# All about Influencer Marketing – What are influencers anyway? What is influencer marketing, how does it work and how can companies benefit from it? Answers to the most important questions.
Top 3 platforms for your influencer marketing
It's hard to imagine that we use digital media for an average of 9 hours and 26 minutes a day. Instagram, YouTube, TikTok & Co. are firmly integrated into our everyday lives and we can no longer imagine life without them. A quick post to show the world where you are or to see what your favourite influencer is doing. Not only Gen-Z uses social media, older generations are also getting excited about the world of influencers, so a growing market is opening up.
So social media marketing is your must-have for a successful marketing strategy! They are the idols of Gen-Z and have an impact on our consumer decisions, so that approx. 70% of young people have made a purchase through an influencer recommendation. Authenticity and credibility play a big role and have a positive impact.
Influencer Marketing:
What is it actually?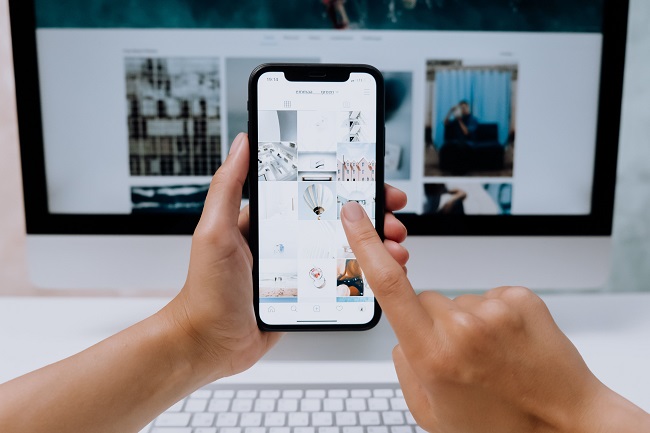 If you want to construct a successful marketing strategy, you cannot avoid developing an influencer marketing strategy. This includes the targeted use of suitable creators who present the brand and its products.
Influencer marketing is the most effective way to address a broad spectrum of customers. In particular, the factors of trust and credibility play a major role. Simply explained: consumers see the influencer as a trusted person and can identify with him or her, so they believe his or her recommendations and follow them frequently.
Influencers thus engage in recommendation marketing, i.e. positive expressions of opinion about a brand, a product or a service, which have an impact on the purchase decision of followers. In doing so, they make a significant contribution to the marketing of products and services.
Definition:
What is an Influencer?
In order to understand the advantages and benefits of influencer marketing, it is first necessary to clarify what an influencer is by definition. An influencer or creator is an expert within a certain niche who is represented on one or more social media platforms. Furthermore, an influencer can exert influence on his or her community via social media.
And what moves a person to follow an influencer? Identification is the keyword here – people follow the influencers they can best identify with or want to emulate. A creator is therefore someone who shares the same interests and to whom one feels a sense of belonging.
Every day, our stars of the digital world take us on their journey through everyday life and inspire us for their world. We let them guide us and trust their recommendations. They always come across as authentic and credible, so that we perceive them as a kind of big brother/big sister or friend whom we want to emulate.
Influencers exist for the most diverse areas and niches: from the Fitness Influencers to Fashion Influencers up to the Pet Influencers. Creators are often distinguished not only according to their thematic focus, but also according to their reach. For example, one can divide them into nano-, micro- and macro-influencers, which can be staggered into different ranges.
5 reasons why companies should use influencer marketing
Influencers are multi-talented and indispensable for a successful marketing strategy.
Influencer marketing is the most effective way to reach a wide range of customers

External corporate communication — Brand identity and corporate values can be carried outwards through the influencer as brand ambassador

Influencer marketing affects our consumption decisions. They offer incentives to buy and awaken our desire to buy.

The phenomenon of fascination – People want to emulate their idol and are inspired by them.

Authentic and credible influencer promotion combined with expertise and know-how is convincing.
Finding influencers - how do we recognise a perfect match?
It's not just Are you the One that's looking for the perfect match, we as an influencer agency are also looking for the pot to match your lid.
Influencers are a dime a dozen, but influencers and brands are not always a perfect match. The art of a successful campaign is to find the perfect match: In other words, to find a high-performing influencer who is an optimal match for the brand and the campaign and can thus advertise authentically and credibly. In addition, we analyse the performance of an influencer and determine the "Perfect Match" potential.
Essential features of a Perfect Match:
The style of the influencer and the brand identity are aligned
Does the influencer reflect the customer's wishes?
Content of the creator in accordance with the potential cooperation partner
Performance KPIs
Reach, high proportion of German followers (especially crucial for German influencers), engagement, etc.
Authenticity & Credibility
Our Working Process in Influencer Marketing
We've made it our business to find the perfect match for your campaign and here's how we go about it:
In order to find your perfect match, we start with a non-binding and free initial consultation. You are welcome to ask us any questions you may have. We will also clarify your questions and discuss the details of your campaign in order to find the right influencer for you.
As a team of experts in the field of influencer marketing, we advise you individually and work out a successful marketing strategy with you. We take your wishes and ideas into account and offer you creative input and expertise so that nothing stands in the way of a smooth process and you find your influencer.
For a successful campaign, we analyse different influencers according to their performance and KPIs. We check various influencer profiles for reach (e.g. micro influencers), engagement, German shares (usually German influencers), likes (Instagram influencers, TikTok influencers, YouTube influencers, etc.) and much more. Of course, the content also plays an important role and must fit the respective campaign.
After our comprehensive research and analysis of various talents, we send you a non-binding offer and give you feedback on the availability of the influencers. As soon as we get a positive feedback and the order, we are always very happy and do a little happy dance in the office. Your perfect match or influencer creates the content in the next step. We are always thrilled about our super creative talents and their great realisations! Before publication, you will be sent the content in advance so that you can make changes and criticisms and the content can be adapted to your wishes.
After posting, we compile reporting based on the campaign insights. We discuss this reporting together with you in the final closing meeting. We would be very pleased if you would also give us feedback on the cooperation.
Could we find the right influencer for you?
the influencer x Perfect Matches
Medizinfuchs Influencer Kampagne
Who hasn't experienced it? The cold season starts and you don't have any more medicines at home. Medizinfuchs compares more than 350,000 products and their current prices in the areas of medicines, care products and dietary supplements. And the best thing is that you also save money!
We already count Medizinfuchs among our regular customers and are always delighted when a new cooperation is in the pipeline.
Staylac Influencer Kampagne
Peeling nails were yesterday! We start the new year with Staylac. The UV nail polish can be easily applied at home and cured with a UV lamp. And the manicure is ready, promising perfect nails for up to 3 weeks.
In a really great collaboration with the lovely @lovebellalou, we were able to put a beautiful influencer campaign on your feet. In several sequences, she showed her followers step by step how to apply the nail polish. Not only her community is enthusiastic, but also Jenny herself, so that we have planned another cooperation for spring 2023.
Creator: @lovebellalou
Insight into the Medizinfuchs campaign
Insight into the Staylac campaign